Pat Rice Receives OPAA Regional Employee of the Year!
Dianna VanEaton
Friday, May 10, 2019
Patricia Rice was honored with the OPAA Regional Employee of the Year award on Friday, May 10, 2019, at the Minneapolis Grade School morning assembly. Ilene Mullen presented the award to Pat and shared with students and staff some of the reasons Pat had received this award. Ilene stated, "Pat has embraced Opaa's presentation and quality requirements for the fruit and vegetable bar. She goes above and beyond her duties, and steps in whenever and wherever needed." Ilene said Pat 's number one priority is taking care of the students at MGS. In addition to making the students' favorite vanilla and fruit yogurt, Pat makes all the sack lunches for field trips. She is a dedicated, organized and conscientious USD 239 employee.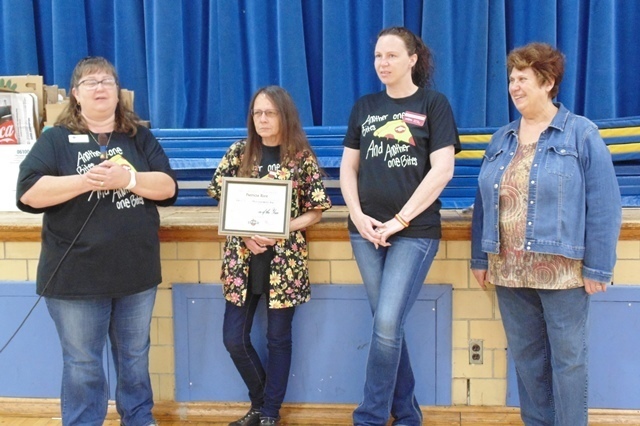 Left to Right: Ilene Mullen, Pat Rice, Tara Bond, and Pat Anderson