MGS Fourth Grade Students Get Results from Willie and the Beanstalk Contest
Dianna VanEaton
Wednesday, April 17, 2019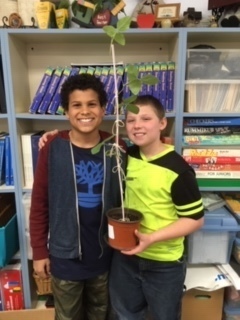 1st Place winners with their soybean plant: Kingston Deronnet, Alex Metzger, and Cody Stiffler (not pictured)
Students in Fourth Grade at the Minneapolis Grade School were excited to hear the results from the 12th annual Willie and the Beanstalk contest sponsored by Kansas State University Department of Agronomy and the Kansas Soybean Association. Fourth Grade students at MGS have participated in this contest since 2010. This year, the 4th Grade teachers turned entering the Willie and the Beanstalk contest into a Project Based Learning opportunity for their students.
On February 5, 2019, students visited the Agronomy Department at Kansas State University. Students met with professors and KSU students to learn about the impact of soil and lighting in soybean production, the uses of soybeans after the crops are harvested, and tips on growing a successful soybean crop. They also had a tour of the KSU Agronomy's Greenhouses. In their classrooms at MGS, students were divided into groups of three. Then they selected a name for their group. They used the scientific method to begin their projects. Students developed a question to test while growing their soybeans. Examples of questions are as follows: Which kind of lighting would be better: natural light or using a grow light? Will Plant A with fertilizer or Plant B without fertilizer grow better? Which will grow better: Plant A with 50mL of water or Plant B with 250 mL of water with watering on Monday, Wednesday and Friday? How would insulting Plant B for five minutes and saying kind words to Plant A affect their growth? How does playing music for one hour per day affect plant height?
Students had 40 days to grow two soybean plants. Soil and pots were donated by the Ottawa County Farm Bureau and the seeds for the soybeans were donated by Shelton Daugherty from River Hill Seeds. MGS Cub Backers purchased two grow light stands, lights, soil thermometers and timers for the fourth grade classrooms. On February 25, 2019, students planted their soybeans, decided on where to place their plants, how much to water, how much and/or whether to fertilize their plants. Students anxiously waited for the soybean plants to sprout. As the soybean sprouted, students measured and charted the results. As part of the contest, the students maintained written documentation regarding rooting medium, growth amendments, lighting, temperature, watering regiment, and scientific method. This information was submitted to Kansas State University one week before the contest ended.
On March 25, Clara Mull from Ottawa Farm Bureau and Sheri Seifert from Kansas Soybean Association visited each of the fourth grade classrooms to look at the plants and offer advice to the students. On Friday, April 5, 2019 the teams presented their research findings to their classmates. Then, each team had to decide which plant would be sent to
KSU for the final judging. On Saturday, April 6, 2019, Mrs. Mullen, fourth grade teacher, and her husband transported the soybean plants to Throckmorton Hall on the Kansas State University campus for judging. Plants were judged on five criteria: 1) Cultural Practices Documentation, 2) Plant height, 3) Leaf Area, 4) Biomass, and 5) Leaf Color. MGS took 17 plants to be judged representing the 17 teams. There were 115 teams participating across the state of Kansas this year.
For the first year in contest history, Minneapolis Grade School had a 1st place winner, The Beanie Boys from Mrs. Brubaker's classroom. Their winning plant placed 6th in documentation with a score of 60, 8th in biomass with a biomass of 7, 4th in plant height with a height of 81 cm, 3rd in leaf area with a leaf area of 99.5 and 36th in leaf color with a score of 38. The Plant Busters, also from Mrs. Brubaker's classroom, had the second tallest plant with a height of 89 cm. The RLB Harvesters from Mrs. Marsh's classroom placed 1st in leaf color with a score of 68.2. MGS had 11 teams placing in the top 16. Each student received a t-shirt and a certificate for participating in the contest.
The soybeans not submitted for judging at Kansas State University continued to grow in the classrooms. Students were able to observe the flowering, pod production, and the final stages of the soybean plant cycle. Students and teachers transferred what they learned from growing soybeans to grow other plants. The seedlings they raised will be available for purchase at the School Carnival. Students will be selling basil, cucumbers, marigolds, peppers, pumpkins, tomatoes, and zinnias at the Carnival.